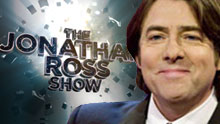 As a "it's winter, let's do something exciting!" gift to my husband, I applied for tickets to be in the live audience of The Jonathan Ross Show. I didn't hear anything for quite a while so I assumed that I had not been successful and forgot all about it. Less than a week before the date I had applied for, though, I got an email telling me we had two tickets for the show on 5th Feb!

The big day unfortunately coincided with a tube strike so I was running late. We were meant to be there before 6pm, my husband was already in the queue and I was rushing along Southbank to get there. Next thing I know, I'm face down at the foot of a statue located on a small plinth that I hadn't seen and had tripped over. Whoops, slightly damaged pride and some ripped tights later, someone kindly helps me to my feet and I am on my way.

I reach my husband in the queue just as he has received his wristband, which means I am sent to the back of the queue to wait my turn. He joins me and we anxiously wait to see if we will both get seats - although we received tickets, SRO slightly overissue tickets to ensure full capacity. Luckily we did get in and took our seats in the studio, looking around the set and joking about how much larger it seems on TV. The evening started off with the warm up act who picked on people in the audience. We were pretty happy not to be sitting towards the front, even though this particular show isn't heavy on the audience interaction!

At about 7.30pm the show started and our job as the cheering audience began. I found it really interesting to see how it was filmed - which was without "takes". There were breaks in recording in between each guest but other than it ran pretty smoothly. It was great to see the full interviews, each of which took about 20 to 25 minutes. Guests that day were Kiefer Sutherland, Chris O'Dowd, Kevin Bridges, Emily Mortimer and John Legend. We had fun spotting boring stories that the show would likely remove from the final cut. In one of the recording breaks Jonathan was interacting with the audience and showing off his Japanese language skills. Chris O'Dowd had a few drinks backstage (after his interview) and was hilarious during the recording of the trailer, fluffing up Jonathan's hair incessantly.

We had a really great time at the show and would definitely do it again. It was straightforward to get the tickets - I applied through SRO audiences. I would recommend being there in good time though, to ensure you get a seat.

The right gift for: a Jonathan Ross fan or someone who wants to experience being in a TV audience
Price: FREE
Add on potential: Date night a few days later, watching it on the TV!
Photo credit: SRO Audiences website